Ryuk Micgloughlan, The Darkness
Full Name: Ryuk Micloughlan
Nickname(s): I don't usually go by anything other than Ryuk.
Gender: Male
Age (Immortal and Human): Currently one of Darien's oldest living characters, so blow me.
Looks:
Other Form(s): Let's put this simply, bitches. I've got TWO other forms. Death, and Wolf.
Death: Dressed in a tattered cloak and black robe, I stand a decent foot or so shorter than my normal form, with a mask made from a slab of quarts covering his face. The mask has two rubies in place of eyes, so no one can stare at my broken soul. I carry around my scythe in this form. A large silver blade with black rune-burns on a 5 foot tall iron pole.
Wolf: Ashy Gray fur with White Spots here and there, I stand about as tall as Darien's wolf form, with a mouth full of sharpened fangs. My eyes are ablaze with ebon flames, tickling the burnt flesh surrounding those orbs of hellbent fury.
Tattoo(s): My original tattoos were burnt off my first trip through purgatory, now I just have rune markings to help me control my magic.
Hobbie(s): I enjoy slaying people, taking souls, ripping souls apart, then sending them to the world of the dead.
Race: Wolf-Therian/Angel of Death
Strength(s): I've been through my own special hell twice, purgatory three times, and I've given up my soul, had it put back into my chest then had it ripped out again.
Weakness: Like you'd want to use it against me, bitch.
Allergie(s): Bitch. That left with my heart.
Hair Color: Black
Eye Color: Black on Black.
Mortal or Immortal: I'm the highest rank of Immortal in the character world, bitch.
Sibling(s): I murdered them, thank you very much.
Friend(s): Things got fucked up after my Special Trip to Hell.
Parents: Cause I'M a psychopath, their dead.
Likes: Blood shed, Soul Torment, Booze, Cigars, My Scythe, Running in Wolf Form...
Dislikes: Razorblayd, "Ghosty", Having a heart.
Personality: Really? It's not obvious by now? REALLY??
History/Short Background: No.
Ability(s): Form Shifting, Plane Transfering, Shadow Bending & Soul Draining.
Weapon(s): Claymore, Scythe...
Vehicle(s): MY VERSION OF THE METALLICAR.
Theme Song(s): Of Mice & Men - You're Not Alone
Favorite Color(s): Black, Blood.
Usual Style of Dress:
Fuckers are so demanding for sentences.
Crush: ...No.
Bf/Gf/Mate: NO.
Orientation: Straight, but not willing to see anyone.
Pet(s): I create shadowy minions, does that count?
Other: "I feel like someone should just tape a warning sign to my head that reads, "WARNING, BLOOD HUNGRY. DO NOT PISS OFF UNLESS YOU WANT BAD JOOJOO TO FALL UPON YOUR PEOPLE." And then tape a big middle finger underneath it."
Last edited by Mayor Mac Tìre on Sat Dec 20, 2014 1:25 am; edited 1 time in total
Admin




Posts

: 55


Join date

: 2014-04-14



Jedidiah Havok, The Spark to the War of Angels.
Full Name: Jedidiah Havok
Nickname(s): Jed
Gender: Male
Age (Immortal and Human): He's been immortal all of his life, and his age is roughly around a few hundred years old.
Looks: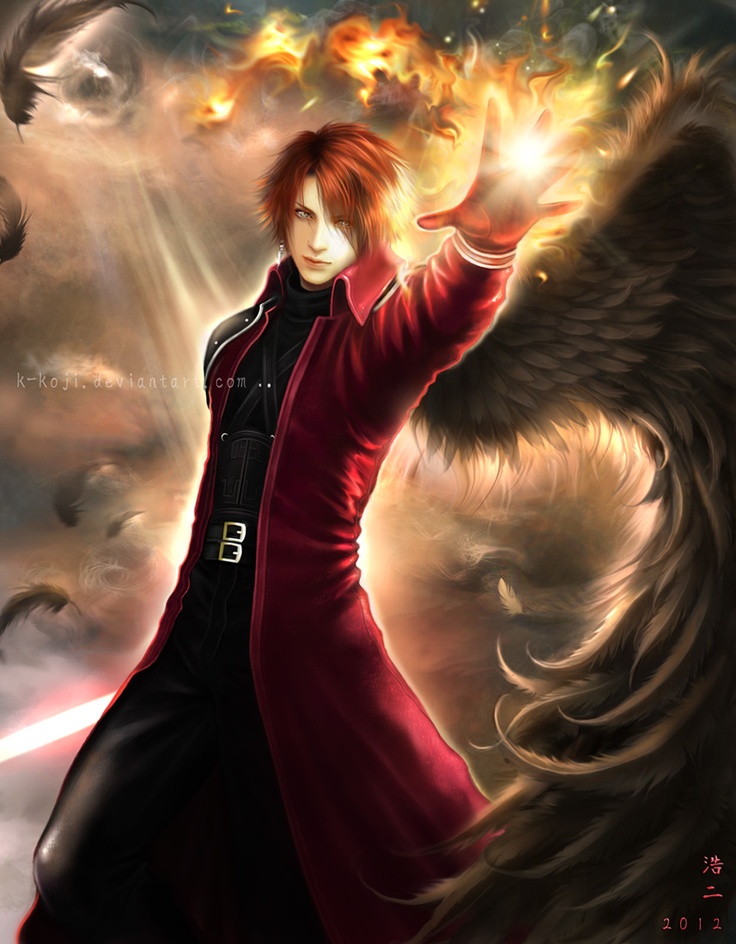 Other Form(s): Due to the fact that he's half Saint half Fallen, he doesn't really have any sort of other form, or does he?
Tattoo(s): Jed? Care to go off the list?
Sure think, D. Well, starting from the top and going down, I've got the japanese kanji for warrior on the back of my neck, armor plating on both of my shoulders, a sleeve tattoo on my left arm dedicated to the war with the angels I fought with my buddy Ryuk, a chain wrapping from my wrist up to my elbow on my right arm, with japanese kanji in the loops of the chain links, broken angel wings on my back that wrap around to my rib-cage, Kanji in the middle of those tatooed wings that says broken angel, and a dying tree under the Kanji in between the wings that has the names of the people close to me etched into the bark.
Hobbie(s): He spends his time reaping souls with Ryuk, and wrestling with Cerberus.
Race: As I said earlier, he's half fallen, half saint.
Strength(s): His family heritage, his blood-mix, and his weapons.
Weakness: He doesn't really have any, although it may seem like he does.
Allergie(s): He's allergic to stupid people.
Hair Color: It's like an Auburn color.
Eye Color: Silver with black pupils.
Mortal or Immortal: Immortal.
Sibling(s): He considers Ryuk his sibling because they've been with each other as buds their entire life.
Friend(s): Everyone, he's a friendly guy.
Parents: He doesn't have parents, but he considers his Grand-dad Hades, lord of the underworld, a good fatherly figure.
Likes: Hanging out with Ryuk, the Creators, and his 'Dad', painting and reaping.
Dislikes: People trying to fill him and or ryuk with bullets... >.>'
Personality: Jed's a rather friendly guy, he spends time hanging out with his long time best friend and reaping havock in small towns, although as cruel as that sounds, he's not that bad to be around. He cares for the people around him and makes sure that no one gets hurt.
On the flip side though, if you were to make Jedidiah angry, let's just say his relation to the lord of the underworld begins to shine through.
History/Short Background: Jed was abandoned when he was very young by his parents after they found out that he wasn't a 'Proper Follower of the Lord', they had attempted to strip him of his angelic abilities as time passed, and send bounty-hunters after him to bring back their past fame and glory, before their son came into their life, but every bounty hunter that was to come relatively with in 50 feet of Jedidiah had been turned to ash by some unknown force.
At what seemed to be the human age of 17, a portal had opened one night in Jedidiahs bedroom, and a figure had stepped through. This figure had mis-matching eyes and hair as black as the starless night, his skin looked as if he were a Vampire, but his aura spoke differently. The figure introduced himself as none other than the Angel of Death, Ryuk.
Ryuk had told Jedidiah about his grand father protecting him from the bounty-hunters that were sent by his parents, and how his parents had went to visit Hades, but only ended up as souls in his fountain. He also spoke of how Hades had wished to raise his Grandson, unlike his parents had failed to do. So, Jedidiah decided to set his house on fire, to eliminate any trace of his existence, and followed Ryuk to the Underworld.
While in the underworld, Jed learned of his abilities, learned of his family heritage, and learned that Ryuk was to be his best friend for all eternity they spent fighting by each others side. When the war of the angels had broke out, Ryuk and Jed were called to battle, because of their supposed angelic blood. So, they followed their duties, and appeared at the battle, only to watch from the dying tree of Eden, as the angels fought a war that would never be won.
As the armies had dwindled to their last numbers, Ryuk and Jed had decided that it would be fun to get into the battle and reap some havock, since they weren't due back to the Palace of Hades for a few more hours. So, with Scythe and Sickles in hand, the two hell-bent angels ended the lives of those whom still stood. The blood shed was terrific, and Hades was truly pleased with the mass chaos his Grandson had caused.
Ability(s): Since Jed's Half Fallen, Half Saint he has Angelic and Demonic Abilities, and he can also bend fire

Weapon(s): He wields a pair of Sickles that have runes etched into the blades.
Vehicle(s): He drives an old fashioned black mustang
Theme Song(s): The Wicked Ones by 10 Years
Favorite Color(s): Black.
Usual Style of Dress:
Make Sense?
Crush: Nope Nope.
Bf/Gf/Mate: Nope Nope Nope.
Orientation: Y'all can figure that out.
Pet(s): Nope Nope Nope Nope.
Other: Nah.
Last edited by Mayor Mac Tìre on Wed Aug 20, 2014 7:51 am; edited 1 time in total
Admin




Posts

: 55


Join date

: 2014-04-14





Similar topics
---
Permissions in this forum:
You
cannot
reply to topics in this forum